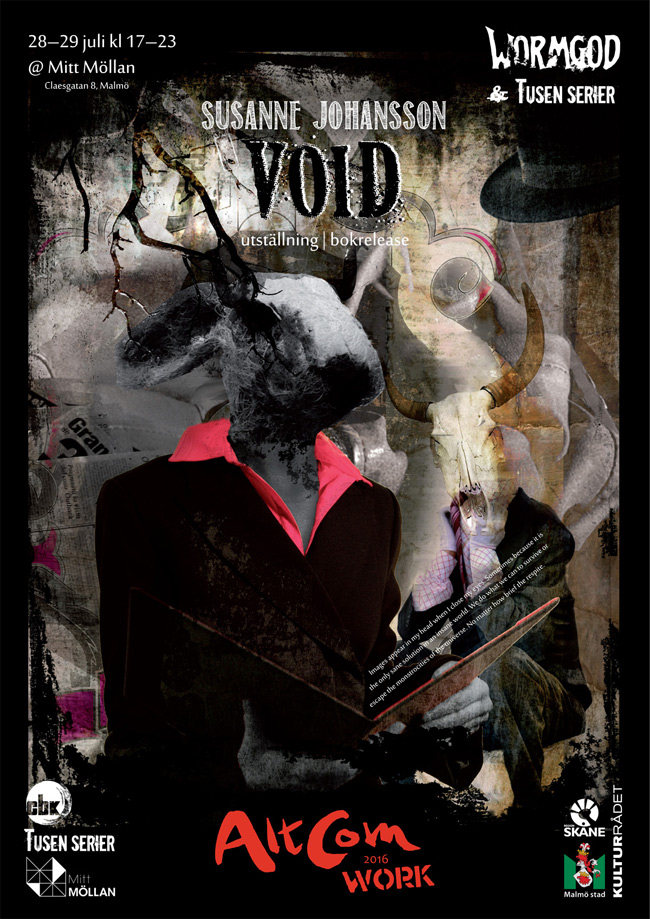 Wormgod: VOID
July 28-29, 2016 @ Mitt Möllan (Claesgatan 8), Malmö
Open 17-23
Wormgod & Tusen Serier present the release exhibition for the Wormgod/Tusen Serier book VOID by Susanne Johansson.
When I ask body and flesh the question about work and what it is, the answer comes quickly, swift as sand running between rugged fingers.
The sensation of holding cold hard steel, repeating monotonous movements from early dawn to dusk.
Day after day, year after year. Forever and always.
The endless digging, deeper into the dirt of the soul.
To keep the heart and spirit alive no matter what.
The eternal struggle to keep terror and sorrow at bay.
Walking alone in the wild, struggling through desolate paths to find what was once good and well.
To endure this world and keep sane in the cold dead desert of the mind.
Through the dark forest of my memories.
And in all this, the simple comfort of holding something or someone close to my heart.
In brittle human hands. Watching it squirm and twist.
Day after day, year after year. Forever and always.
Part of the AltCom 2016: WORK festival