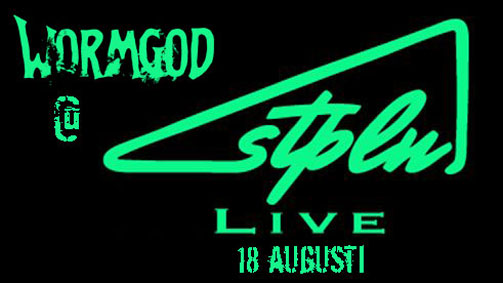 August 18 in Malmö at STPLN during STPLN Live:
Wormgod @ STPLN Live
STPLN Live is an alternative to the Malmö city festival, during 3 days (17-19 augusti), arranged by ABF Malmö, STPLN and Arena 305. Wormgod has booked 4 bands during the Saturday (August 18) for some electronica and noise to offer an alternative to the alternative:
18:15 IAMTRIP
IamTrip is a project by Filip Forsström who plays ambient, idm and glitch. The inspiration for IamTrip came from the commersial side of dubstep and the need to recreate the wobble-bass. Filip hopes to show both the angry and ruthless parts of the world of bass, but also the small and sad tale of what happened after the bass.
website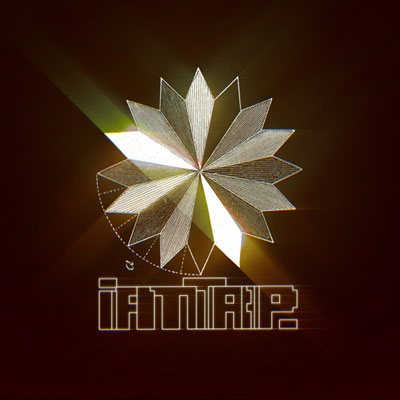 19:00 KOEFF
KOEFF is Johanna Rosenqvist's solo project after she left the Swedish Power Electronics-duo INSTITUT. She has since performed live at several different locations; Clubs, Art Galleries, Festivals with a series of acts with household machines. During the Spring Cleaning Tour 2003 a vacuum cleaner was lead instrument, at a more recent gig at the Malmö Kulturförening the gear was more back to basics: small electronic devices + lots and lots of stomp-boxes = massive feedback!
website
19:45 MARTIN NORDBECK
Martin Nordbeck has made music since the early 90s. Improvisation and freedom from rules have always been in the centre of his creativity. Today he runs the netlabel Sediment, releasing experimental music for free. When Martin plays live you never know what will happen, it's rather risktaking and spontaneous than practiced and stiff. The only thing you can be somewhat sure of is that Martin will explore the meeting point between acustic sounds and electronic processing in some way.
website
20:30 CONCRETE THREAT
Concrete Threat was formed in 2006 ny Hannes Hellman and Christian Fagerström and have since released more than 20 records and cassettes. Their music has been described as "Sick and brutal gutter HNW [harsch noise wall] for murder fanatics and otherwise disturbed people". Genre: HNW / Harsh Noise / Death Noise
website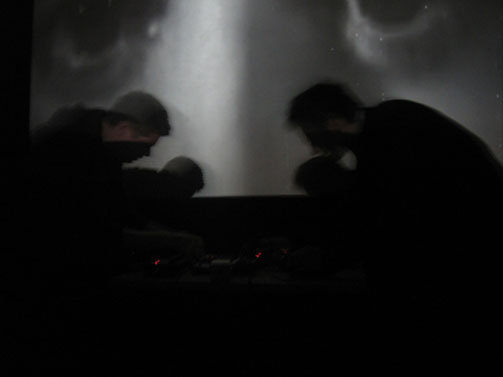 Photo: Concrete Threat at Stapelbädden 2009.
Also, on Sunday, Nov 19:
16:00 DESTRUCTIVE NOISE
Destructive Noise, a noise rock/punk band with a somewhat odd set. With two bass players generously working the effects, a skilled drummer and an eclectic singer, their music is rythmic, dark but still catchy. With progressivity as well as catchy tunes, the energy is as high as the music is loud for this Malmö-based band.
website