Wormgod presents: TRAUMA
November 11-12 2011 at STPLN, (Stapelbädden) in Malmö, Sweden.
Noise/power electronics/drone/experimental. Anything that will make you ears hurt.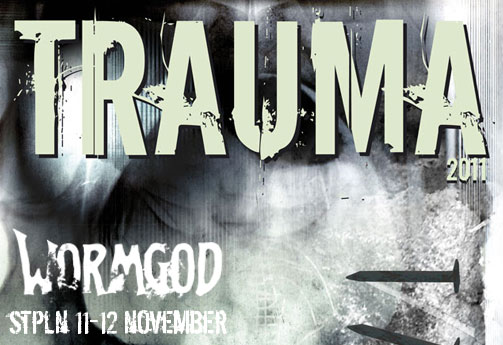 Videos:
DAMIEN DUBROVNIK

KOEFF

KNULLKRAFT

LUST FOR YOUTH

EDGAR ARIZA

KNULLKRAFT

MARTIN NORDBECK

METEK

TREPANERINGSRITUALEN

EN HALVKOKT I FOLIE

2 days, 2 stages, 17 bands +DJs +distros +exhibitions!
Friday (not in order of appearance), 18-03:
ANATOMITEATERN
ANDREAS BERAHA
CONCRETE THREAT
DAMIEN DUBROVNIK [dk]
EN HALVKOKT I FOLIE
FEBERDRÖM
KOEFF
KNULLKRAFT
LUST FOR YOUTH
MONGST [can]
Saturday (not in order of appearance), 20-03:
ENEMA SYRINGE
KHMER NOIR
KLAUS H. HANSEN & TR KIRSTEIN [dk]
MARTIN NORDBECK
METEK
NIMAM SPREGLEDA
TREPANERINGSRITUALEN
Both days:
JAMES BREWSTER'S ELECTRO-ACOUSTIC CAFÉ
DJs Friday:
NO DAUN
ZUCKERZEIT
JOHAN "P" GIBB
EDGAR ARIZA
DJs Satorday:
SCHWÄRZE
BRUNSÅS
GNAPP
FRAK
Distros:
BÖRFT
POSH ISOLATION [dk]
RELEASE THE BATS
WORMGOD
Exhibitions:
CHILI COM CARNE: FUTURO PRIMITIVO [pt]
MARKUS SAMNELL
WORMGOD: PURE
TRAUMA is a 2-day festival
1 day = 100sek
2 days = 150sek
Tickets can be bought at Rundgång in Malmö or online via info@wormgod.net.
YOU CAN ALSO GET TICKETS AT THE DOOR.
Bring Your Own Booze or other beverages. We will not sell anything.
FIND THE PLACE:
Take bus no 3 from the Central Station, get off at Kockums. TRAUMA is in the building with the tilted roof.
And/or use the map at the bottom of this page.
Arranged by Wormgod with special guests (Emma Gullstrand, Rickard Daun), in cooperation with ABF.