FUTURE WORMGOD EVENTS & EXHIBITIONS
konSEKVENS - the final chapter | NUCLEAR WINTER | surFACES | FEMALE
If you are interested in any of the mentioned titles, send us a line.
The best way to keep track is to become a fan of Wormgod on Facebook, and to regularly check back here for info as new projects turn up. Or contact us using info @ wormgod . net (delete the empty spaces).
UPCOMING WORMGOD EVENTS & EXHIBITIONS
No upcoming events are planned at this point.
PAST WORMGOD EVENTS & EXHIBITIONS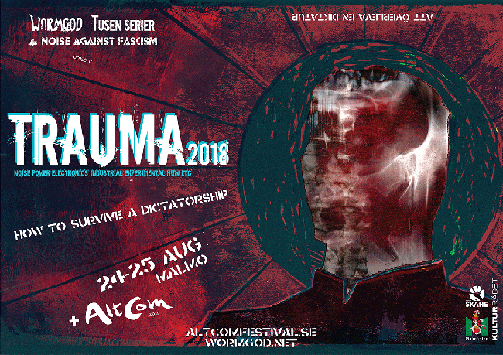 TRAUMA is back! The 2018 festival for noise/power electronics/industrial music will be part of the AltCom 2018 comics festival (Aug 23-26) in Malmö. TRAUMA is co-organized by Wormgod and Noise Against Fascism.
It all takes place Friday-Saturday, August 24-25 2018 @ Plan B (Malmö).
More info.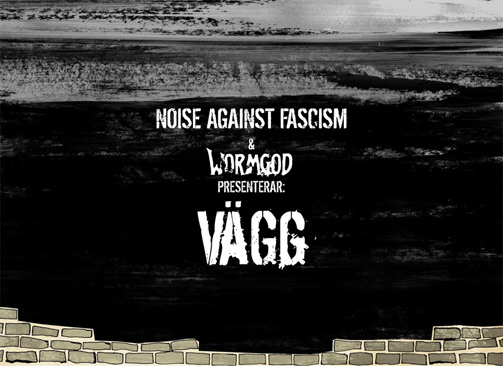 The sound art festival Sound Disturbance is coming up, featuring a revisit to our After the ends of the world exhibition, and a collaboration called VÄGG with Mattias Elftorp (visuals) and Noise Against Fascism (harsh noise).
It all takes place Saturday, February 11 2017 at Inter Arts Center in Malmö.
The festival lasts Feb 10-12. The full program at the festival website and/or the Facebook event.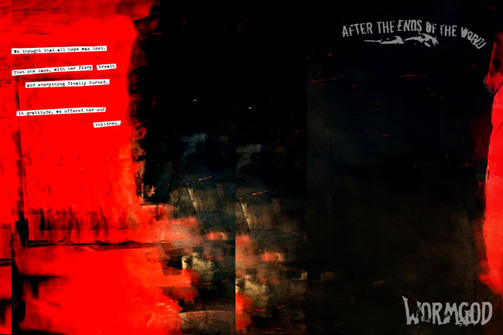 -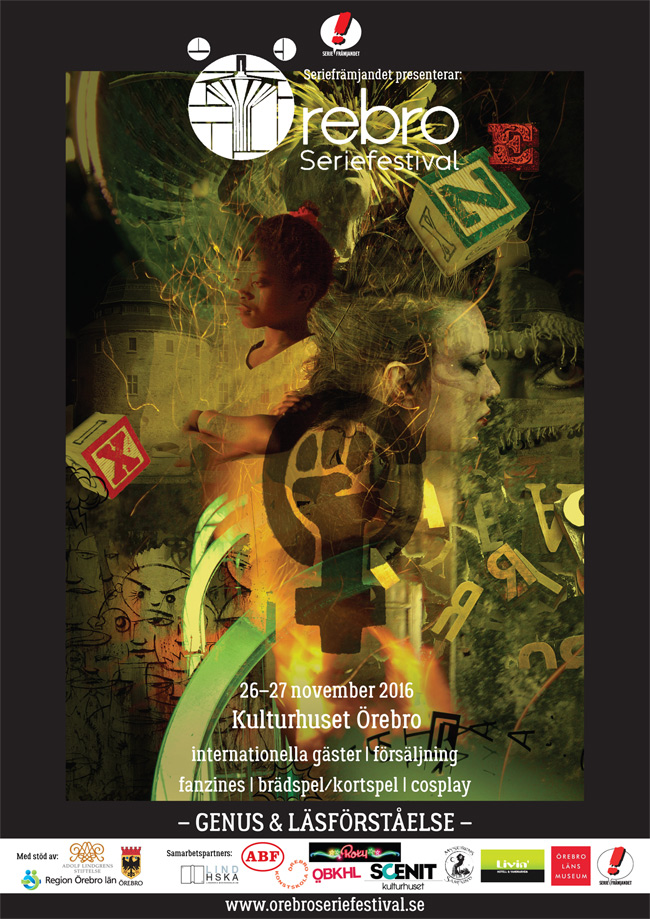 Susanne Johansson's VOID exhibition will be shown at the Örebro comics festival
November 26-27 2016 in Örebro.
The festival poster was made by Susanne Johansson, with design assistance by Mattias Elftorp.

-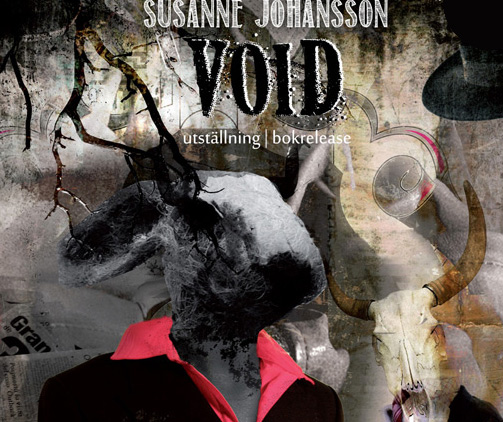 Wormgod: VOID release/exhibition
July 28-29 2016 at Mitt Möllan, Malmö.
17-23
Release/exhibition for VOID by Susanne Johansson at the AltCom 2016: WORK comics festival.
More info.

-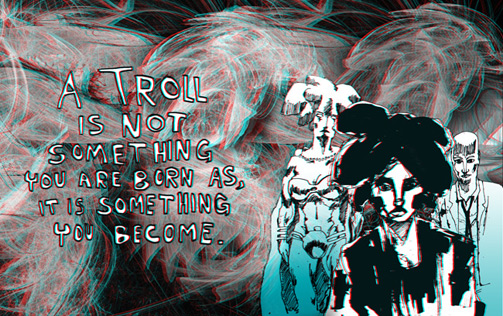 Release: THE TROLL
December 12 2015 at Tusen Serier (Mitt Möllan), Malmö.
17-22
Release/exhibition for The Troll by Mattias Elftorp.
More info.

-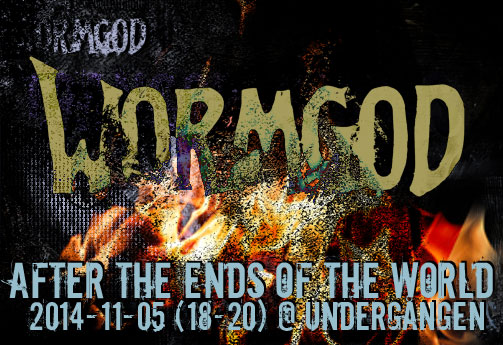 Wormgod: AFTER THE ENDS OF THE WORLD
November 5 2014 at Undergången (below Dalaplan), Malmö.
18-20
Wormgod's contribution to the AltCom 2014: POSTAPOKALYPS comics festival.
More info.

-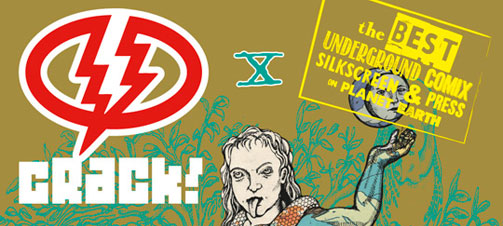 Wormgod & Tusen Serier @ CRACK! X
June 19-22 2014 at FORTE PRENESTINO in Rome, Italy.
In the beginning was the worm. CRACK! GENESI
More info.

-


Wormgod & Tusen Serier @ Carte blanche au festival Crack!
October 5-10 2013 at the SERENDIP.LAB festival, Le Bloc, Paris.
Exhibition to celebrate 10 years of CRACK!
More info.

-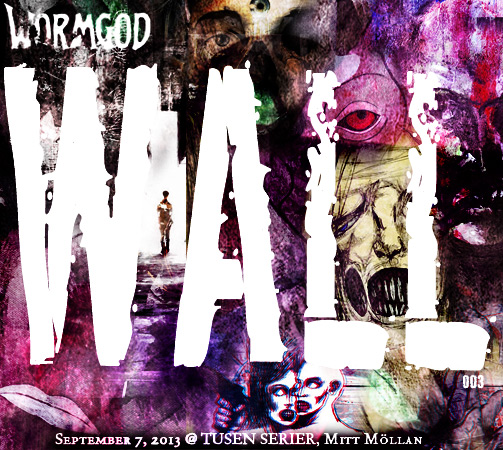 Wormgod WALL003
September 7-13 2013 at TUSEN SERIER, Mitt Möllan, Malmö.
Opening September 7, 12-18
No noise gig, no festival, just alcohol and a wall of art!
More info.

-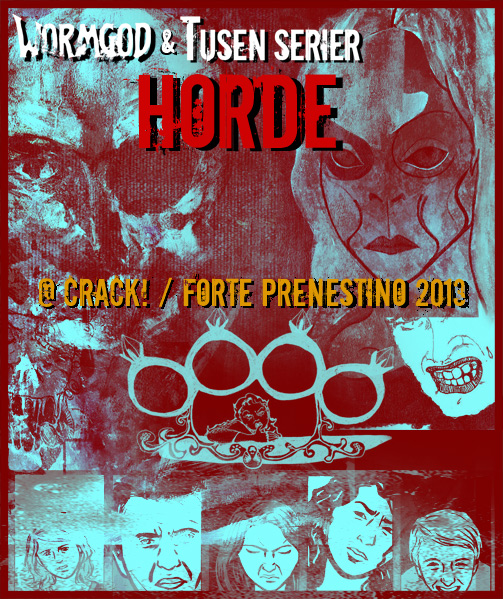 Wormgod & TUSEN SERIER @ CRACK! 2013
June 20-23 2013 at FORTE PRENESTINO in Rome, Italy.
The HORDE comes to CRACK! The HORDE is CRACK! CRACK! is the HORDE. The HORDE is here!
More info.

-


Wormgod @ NOVO DOBA 2013
May 31 2013 at INEX FILM in Belgrade, Serbia.
Faces of life, faces of death, faces of love that never ends.
More info.

-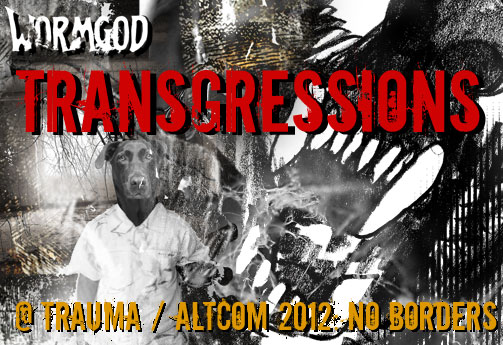 Wormgod: TRANSGRESSIONS exhibition @ TRAUMA 2012
November 9 2012 at Borgen in Malmö, Sweden
AND May 11 2013 during AltCom Asylum at Kontrapunkt in Malmö, Sweden.
What's left when the borders have been made obsolete? What remains when the final fence has been climbed and left behind? What happens when there are no more boundaries? And why does that seem so unthinkable?
More info.

-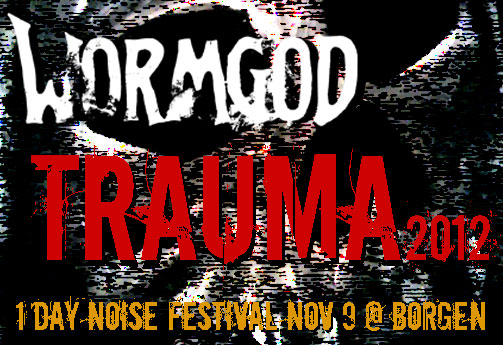 Wormgod presents: TRAUMA 2012
November 9 2012 at Borgen in Malmö, Sweden.
For the second time, Wormgod organizes the TRAUMA hnw/noise/power electronics/experimental music festival. Local and international bands do their best to hurt your ears and minds.
More info.

-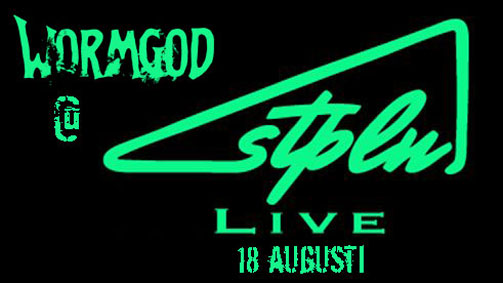 Wormgod @ STPLN Live 2012
August 18 2012 at STPLN, Malmö.
STPLN Live is an alternative to the Malmö city festival, during 3 days (17-19 augusti), arranged by ABF Malmö, STPLN and Arena 305. Wormgod has booked 4 bands during the Saturday (August 18) for some electronica and noise to offer an alternative to the alternative...
More info.

-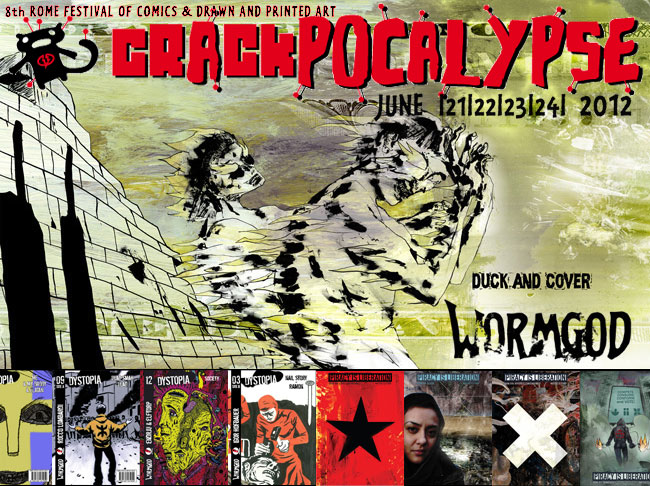 Wormgod @ CRACK! 2012
June 21-24 2012 at Forte Prenestino, Rome.
Wormgod makes a re-presentation of some of the now classic konSEKVENS prints. There will also be books (Dystopia, Piracy is Liberation etc) available.

-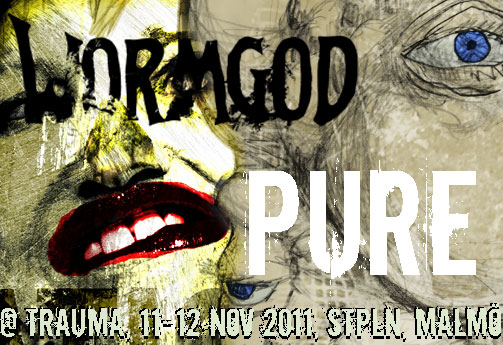 Wormgod: PURE exhibition @ TRAUMA
November 11-12 2011 at STPLN, (Stapelbädden) in Malmö, Sweden.
Wormgod: PURE shows their future.
More info.

-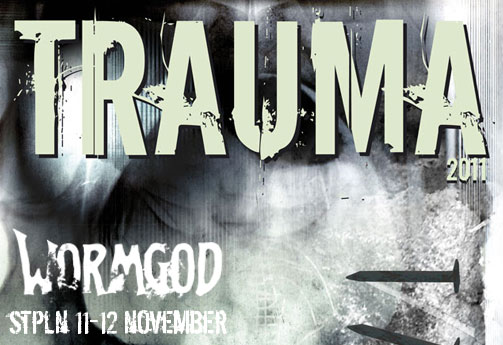 Wormgod presents: TRAUMA
November 11-12 2011 at STPLN, (Stapelbädden) in Malmö, Sweden.
Noise/power electronics/drone/experimental. Anything that will make you ears hurt.
More info.

-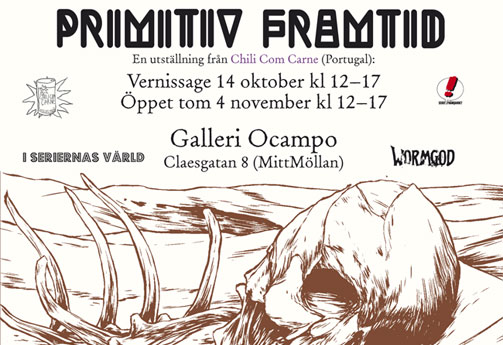 Wormgod presents: FUTURO PRIMITIVO from CHILI COM CARNE
October 14 - November 4 2011 at Galleri Ocampo, Claesgatan 8 (MittMöllan) in Malmö, Sweden.
Postapocalyptic jam comics from Portuguese artists' network Chili Com Carne.
More info.

-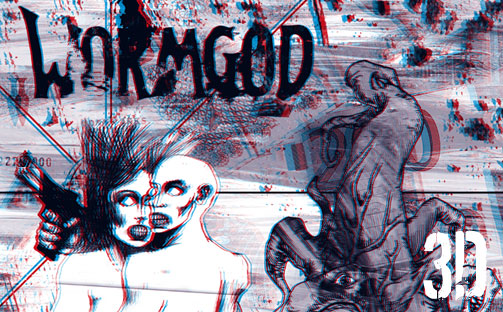 June 16-19 2011 at the CRACK! festival, Forte Prenestino in Rome.
Our first 3D image was produced for the 3DC festival anthology produced by Pakito Bolino and Le Dernier Cri.
More info.

-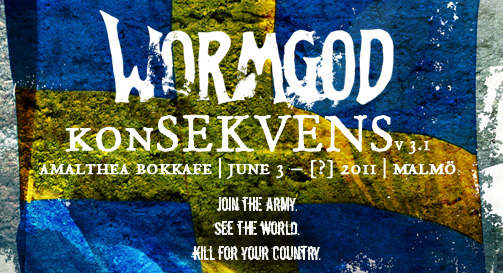 June 3 - August 17 in Malmö at Amalthea Bokkafe:
konSEKVENS v 3.1, two of the prints from the Helsinki edition of the konSEKVENS exhibition. This was also the release event for the newly released Piracy is Liberation 009: Deicide.
More info.

-

December 10-12 in Lisbon at the Feira Laica festival:
WALL 002 was shown at the Feira Laica comics festival in Lisbon and featured a random collection of Wormgod prints. Different themes, different sizes, assembled to form our second WALL exhibition.
More info.

-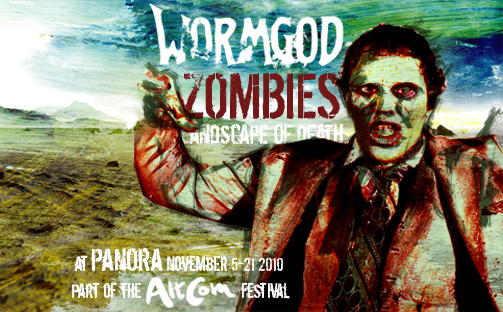 November 5-21 in Malmö at Panora:
As part of the AltCom 2010 comics festival, Wormgod presents the ZOMBIES exhibition. A landscape of death...
More info.

-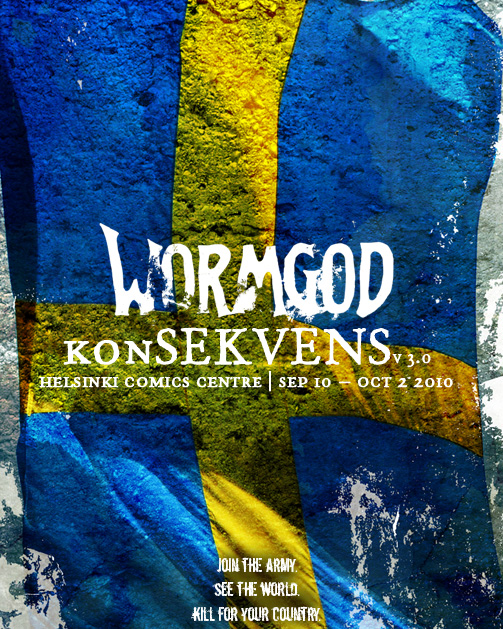 September 10 - October 2 in Helsinki at the Helsinki Comics Centre:
konSEKVENS v 3.0, an all new installment in the konSEKVENS exhibition series. This time we've broadened the perspective. Where the theme for the first konSEKVENS images was the atom bomb, this time we take a look at war in general and at nationalism and its consequences.
More info.

-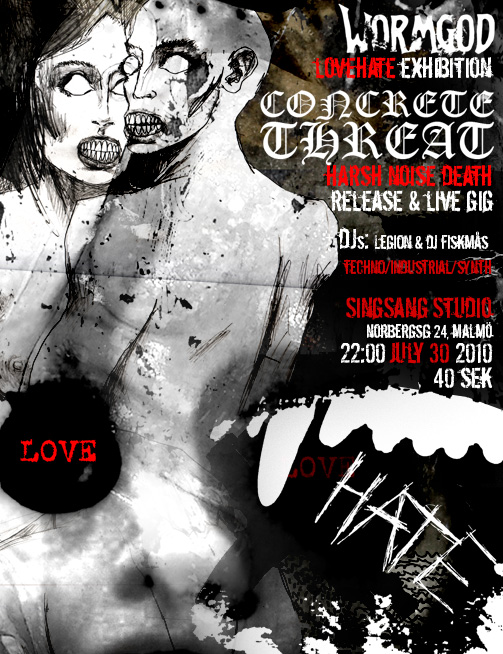 July 30 in Malmö at the Sing Sang Studio: Concrete Threat: HARSH NOISE DEATH release + live gig / Wormgod: LOVEHATE exhibition
Start time: 22:00.
Entrance fee: 40 SEK
Facebook event.
More info.

-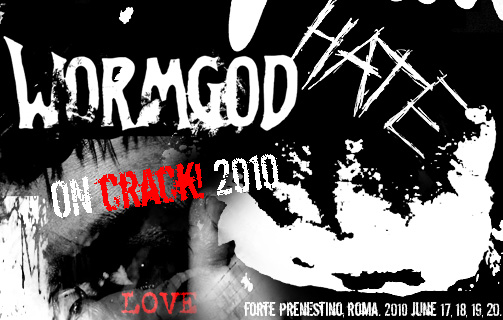 June 17-20 in Rome at Forte Prenestino, Wormgod exhibits for the first time in Italy at the Crack! festival. This year's theme is HATE & LOVE, and so we've modified some of our works to bring to the festival. Wormgod will be represented by Mattias Elftorp, who will be bringing some art and some books (Piracy is Liberation and Dystopia).
For more on the festival, check the Crack! festival website.
More info (and photos).

-

To celebrate the release of Piracy is Liberation 008: Spiders pt 2 and as part of C'est Bon Kultur's interactive exhibition Black Box, we will create a live cyberpunk/cosmic horror experience called Spiders.
Thursday, March 25 at Makeriet, Malmö. Part 4 of
More info.
C'est Bon Black Box - Facebook event.

-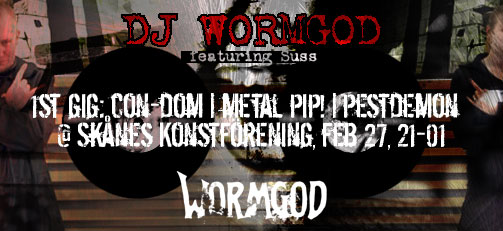 DJ WORMGOD (Suss) will be spinning records at an event at Skånes Konstförening (Malmö), featuring live gigs by CON-DOM, METAL PIP! and PESTDEMON. It all takes place February 27.
More info at the Facebook event

-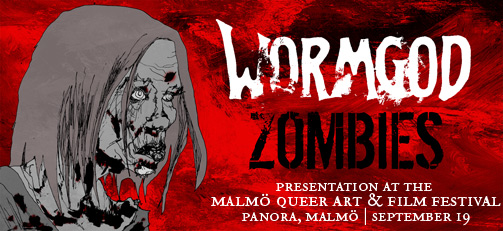 We present our upcoming project, Wormgod: ZOMBIES at the Malmö Queer Art & Film Festival, September 19 at Panora. Through various means of expression (academic text, art exhibition, graphic novel), we are planning to explore the zombie phenomenon.
Where does the zombie collective end up in the societal hierarhies? How can zombification act as a means in the class struggle? What happens with sex/gender when the body dies, if it can still walk and perform actions? Maybe the zombie is an extreme form of drag, as it erases the line between living and dead, at the same time as it makes it very clear that gender roles are nothing but empty shells.
What happens when we have to face the zombie as an undead reflection of ourselves?

We also pose the question if there can be an extended space for subversive and alternative representations within a marginalised genre, in part referring to Bruce LaBruce's film Otto or Up With Dead People. How can categories and power structures be made visible and perhaps be dissolved by working within this genre? A genre that for a long time has been viewed as nothing but an area for B-movies but now has been resurrected...

Land of the Dead - En studie av hur makten kan förskjutas i samspel med kategorier (swedish only: Susanne Johansson's C-uppsats i Genusvetenskap)

-


The conclusion to the konSEKVENS/VÅLD trilogy. We continue exploring the concept of the atom bomb and the event of the bombings of Hiroshima and Nagasaki in 1945. An event that changed the way we view life on this planet by casting the shadow of extinction over all of us. We want to bring this shadow into the light in the exhibition space at Panora in Malmö.
August 22 - September 13.

More info about konSEKVENS v2.0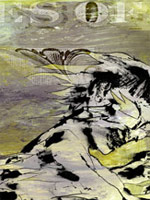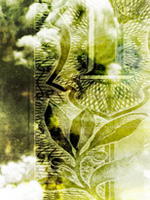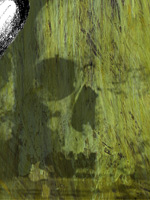 -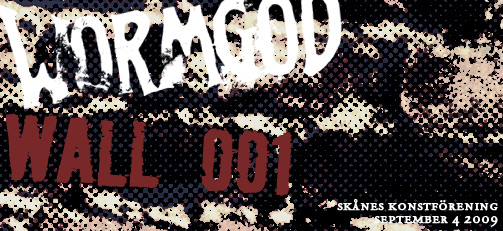 The first showing of a collection of assorted prints from Wormgod. WALL 001 will be shown at a noise event at Skånes Konstförening in Malmö, starring Shift, Grunt, KOEFF, IRM and Pestdemon from Unrest Productions.
This is also the inofficial release of Piracy is Liberation 007: Spiders pt 1, all new from the printer.
September 4.

Our second exhibition is a rerun and sequel to the first. VÅLD (Violence) expands on the theme of consequences and digs further into the single most violent event in the history of humanity.
This exhibition is presented at the release party for Mattias Elftorp's Piracy is Liberation 006: Violence, together with parts of his Violence exhibition during an evening of live harsh noise, power electronics and other violent music.
More information about the event/exhibition.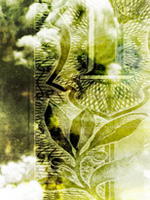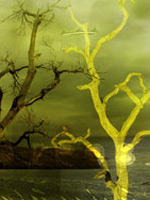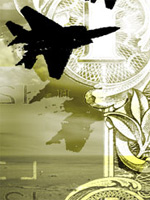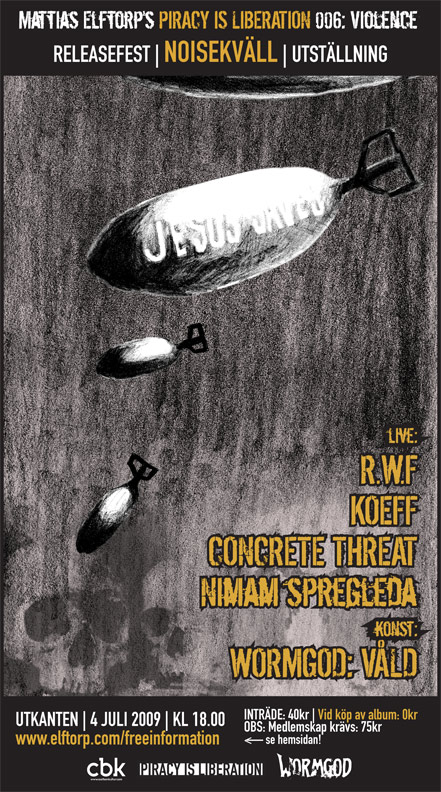 This, our first exhibition, is a sequential artwork about consequences. The image tells a story, perhaps many stories, about a crucial event in human history. Something that has affected our generation and our view on life in a very basic way. An event that brought death into the equation, on a scale that is bigger even than specieswide extincion.
konSEKVENS is also an experiment in linear/non-linear thinking. The images and their stories can be read like a comic strip, but it is up to their viewers to make the connection between different image elements and arrive at something that is not chronological. Something that is spread out through time: a multitude of events and their consequences.